Corneal Cross-linking
Corneal Cross-Linking – Treatment for Progressive Keratoconus
What is Keratoconus?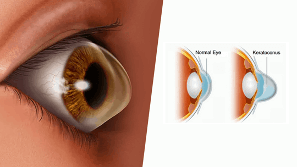 Keratoconus is a degenerative eye disease that affects the cornea.  The cornea is the clear, dome-like structure that helps focus light rays onto the back of the eye.  The cornea can be described as "the front window of the eye."  Keratoconus causes the collagen bonds that help maintain the cornea's shape and rigidity to weaken, which ultimately leads to progressive bulging and an irregular or "cone" shape.  This change in shape can create visual distortions like increased nearsightedness and astigmatism.  If left untreated, keratoconus may progress to the point where eyeglasses or contact lenses can no longer correct vision, and a cornea transplant is needed.  Fortunately, with advancing technology, there are new treatment methods that can help stop the progression of keratoconus and, in some cases, help improve vision.
Who's Affected by Keratoconus?
A rare condition, keratoconus typically first appears in individuals who are in their late teens or early twenties, and may progress for 10-20 years, and then slow or stabilize. Each eye may be affected differently. Keratoconus is found in both genders and all ethnic groups. While the exact cause of keratoconus is unknown, it is believed that genetics, the environment, and the endocrine system all play a role. Early diagnosis and treatment are key to preventing keratoconus from progressing.
What Are the Symptoms of Keratoconus?
In the early stages of keratoconus, people might experience slight blurring of vision, distortion of vision, and increased sensitivity to light.

What is Corneal Cross-Linking (CXL)?

Corneal cross-linking is one of the latest advancements in treatment for people with progressive keratoconus. iLink® FDA-approved epi-off cross-linking is a minimally invasive procedure that uses a combination of riboflavin (vitamin B2) eye drops and UV (ultraviolet) light to help increase the bonds between the collagen fibers in the cornea. This process will strengthen the cornea in order to slow down or totally stop the progressive weakening associated with keratoconus, and allow the cornea to maintain its shape.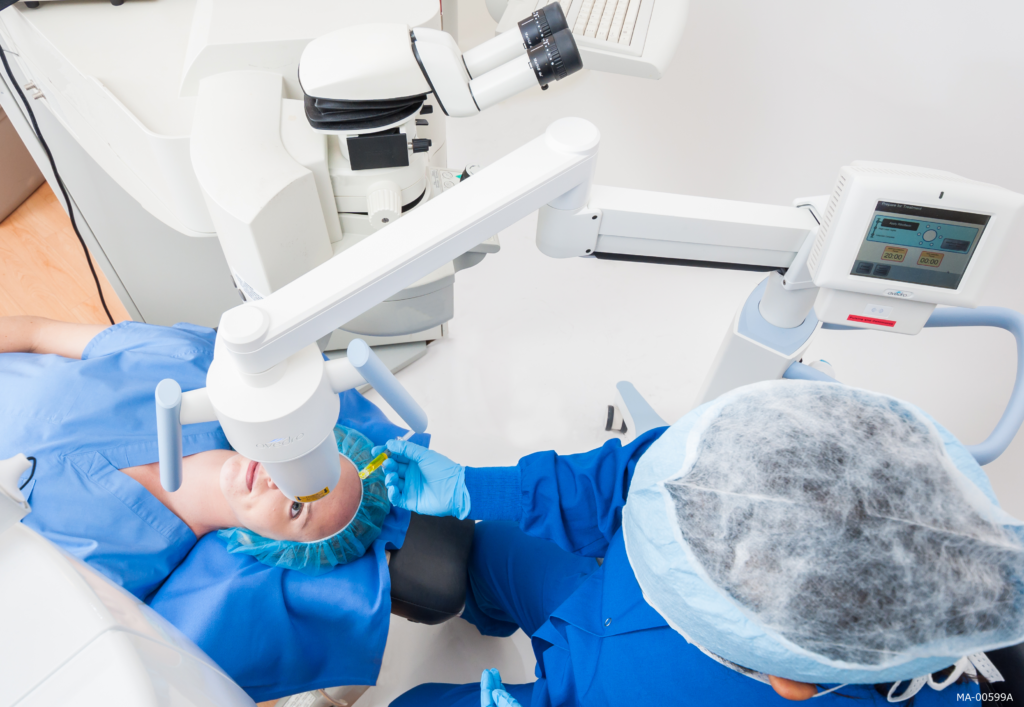 What Can I Expect During the iLink Cross-Linking Procedure?
We perform corneal cross-linking in a specially equipped procedure room in our office. Your eyes will be numbed with anesthetic eye drops and you will be awake for the entire procedure. Patients typically experience no pain or discomfort during the procedure. You will be given several types of eye drops to use postoperatively. We typically treat one eye at a time.
Does Insurance Cover iLink Corneal Cross-Linking?
The medical necessity of FDA-approved iLink™ corneal cross-linking has become widely recognized. As a result, the procedure is covered by over 95% of commercial insurance providers. For additional information on insurance coverage and to view the latest list of insurers that are known to have policies that cover cross-linking, visit the Insurance Information page on LivingwithKeratoconus.com.
Is Cross-Linking Right for Me?
In order or determine whether or not you are a candidate for this innovative new procedure, you will need to schedule a consultation with Dr. Rosenfeld, our Corneal expert who specializes in this procedure.  He will perform a comprehensive eye exam, including advanced corneal imaging and topography.  Dr. Rosenfeld was an investigator for Avedro (now Glaukos) and participated in the clinical trials to help get FDA approval for this sight-saving procedure.  
Please contact us to learn more about your treatment options with corneal cross-linking.