Mark A. Werner, M.D.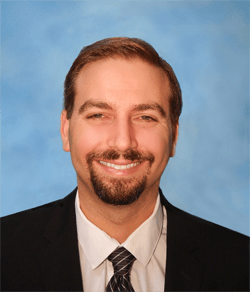 Mark A. Werner, MD, is a board-certified, fellowship-trained ophthalmologist and glaucoma specialist who specializes in the diagnosis and management of glaucoma, including medications, laser treatment and surgery. He also specializes in the management of cataracts, and has particular expertise in the complex cataracts often seen in patients with glaucoma.
Dr. Werner graduated magna cum laude in chemistry from Cornell University, and was elected to the Alpha Omega Alpha Honor Medical Society at New York Medical College (NYMC). Dr. Werner remained at NYMC/St. Vincent's Hospital in Manhattan for his internship. He completed his ophthalmology residency at the University of Florida. Following his residency, Dr. Werner completed a glaucoma fellowship at the Bascom Palmer Eye Institute in 2006, where he later became voluntary assistant professor of ophthalmology. He served as a part-time faculty member, treating pediatric glaucoma patients and teaching glaucoma fellows for six years. He has also served as a cataract surgery instructor for ophthalmology residents.
Dr. Werner spent seven years acquiring extensive surgical experience as part of the Glaucoma Consultants of Florida, alongside Dr. Elizabeth Hodapp. As a tertiary care glaucoma surgeon, Dr. Werner treated a high volume of patients who had a higher risk of complications due to their advanced-stage glaucoma or cataracts, and who were referred to him by local ophthalmologists. He also frequently provided consultations and second opinions on the diagnosis and management of challenging glaucoma cases. Dr. Werner proudly joined Delray Eye Associates in 2013.
Dr. Werner has served as treasurer of the Florida Glaucoma Society. He was also past president and vice president of the Miami Ophthalmologic Society, and later served as a board member. He has been a member of the Palm Beach Ophthalmologic Society , the Broward County Ophthalmologic Society and the Florida Society of Ophthalmology. He is also a member of the American Glaucoma Society.
Dr. Werner is certified by the American Board of Ophthalmology (ABO), and was invited to serve as an examiner for the ABO board examination. Dr. Werner received the Florida Society of Ophthalmology President's Recognition Award and the Ophthalmology Interest Club Faculty Volunteer of the Year Award for volunteer work and teaching medical students. He has spent years as a volunteer at vision screenings throughout South Florida. He is also a volunteer for Eye Care Services of America.
The Florida ophthalmologist has co-authored and published scientific articles on laser treatment for glaucoma, as well as book chapters on pediatric glaucoma surgery in complicated cases and on glaucoma following cataract surgery. He has lectured on complex surgical glaucoma management at the American Glaucoma Society's national meeting. Dr. Werner has also given presentations at the state and national level on glaucoma laser treatment, surgical decision making and advanced pediatric glaucoma surgery.
Dr. Werner is an avid runner and swimmer. He qualified for and ran in the Boston Marathon, and qualified for the State Swimming Championships in distance freestyle in high school. He is also a guitarist and songwriter who has enjoyed performing at local venues. He is a devoted husband and father.